The Tankless Water Heater in Chandler, Davenport & Stroud Oklahoma
Tankless technology that saves you time.
If you've been thinking about investing in a tankless water heater, but haven't made a commitment, think no more. Going tankless with your water heater is a wonderful idea. These water heaters are growing in popularity; however, most consumers are still concerned. Majority are unsure of investing in the new and unusual. However, this article is designed to take the worry and fear out of making a purchase.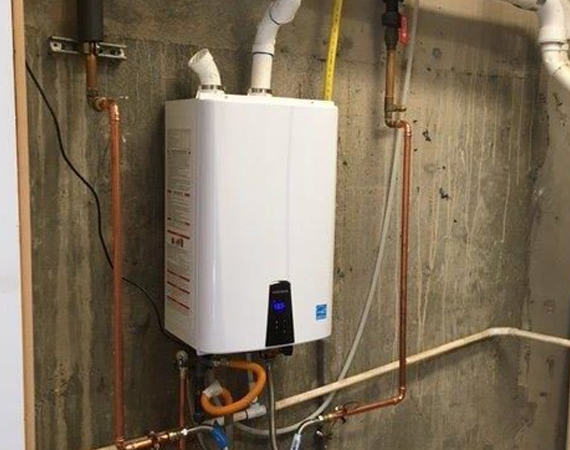 Selection Criteria
When selecting the best type and model of water heater for your home, consider the following:
Availability, cost, and fuel type. The energy source you use for the water heating will not only affect the water heater's annual operation costs, but also its size and efficiency.
Size. To provide your household with enough hot water and to maximize efficiency, you need a properly sized water heater.
Energy efficiency. To maximize energy and save on cost, you'll want to know how energy efficient a water heater is before you purchase it.
Costs. Before you purchase a water heater, it's also a good idea to estimate its annual operating costs and compare those costs with other less or more energy-efficient models.
Also be sure to do what you can to reduce your hot water use. You may also want to explore other strategies such as drain-water heat recovery to save money on your water heating bill.
Fuel Types, Availability And Costs For Water Heating
When selecting a new water heater, it's important to consider what fuel type or energy source you will use, including its availability and cost. The fuel used by a water heating system will not only affect annual operation costs but also the water heater's size and energy efficiency.
Choosing The Perfect Water Heater
Choosing to invest in a water heater is the first decision. After that, selecting one to meet your needs is the next step. Knowing how the water will be used and how often is important. All of this information combined will help you select the perfect model.
We are proud to provide products by prestigious companies such as Rinnai.
Once you've made a selection and had it professionally installed, you can enjoy the benefits of an economically efficient and compact water heater that's guaranteed to meet your needs for years to come.
Here at Linn's Plumbing, we can help you choose and install the best tankless water heater for your needs. Our service area includes Chandler, Stroud, Prague, Meeker, Shawnee, Cushing and surrounding areas., don't hesitate to call 405-258-5171 or visit our contact page.